PR-Tracker (PRTracker) is a client server Windows application and each end-user need install the so-called "web client". We do not have a first hand experience of using it, the following is based on information available on their website in 2004:

PR-Tracker is not web-browser-based.
End user need install a Windows program to perform any operations over the internet.
PR-Tracker supports only Microsoft Access and SQL Server databases, it does not support Oracle, MySQL, or any other databases.
We believe, there are good reasons why a bug tracking system should be web-based as oppose to a source version control system which normally involves a client. In fact, there are only a very few of bug tracking systems that are not web-based. PRTracker is one of them.
Bugzero is proven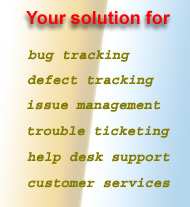 Go for it!