Bugzero™
A web-based change management, issue tracking, and software bug tracking system, a proven enterprise-grade solution for effective team communication, best user experience, easy to use, yet still flexible and reconfigurable to your unique business process and workflow.
ActiveLog™
A web-based help desk customer support, trouble ticketing, general customer tracking, and email management application, uses the same code base as that of the Bugzero software.
JLicense™
Solve your copy-protection problem with this Java license toolkit for Java™ software products, it creates and validates license keys. It is not fancy, but it works great.
SaaS
Hosted on-demand bug tracking. No hardware, no software installation, no upgrade, no maintenance, and no headache. It is there for you any time, and only when you need it.
Partners & Resellers
We invite you to join our reseller partners program.

Here we introduced Bugzero, a tool which is easy to handle, easy to administrate, flexible and user friendly. Especially convincing is the stability and the reliability of the system. - Dumitru Bizau, Siemens (2005)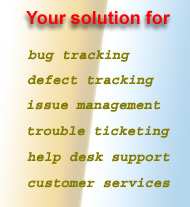 News
3/14/2017: Bugzero 6.7.2 released! Bug tracking and help desk customer support is made easy and more flexible... >> more.
•
1/27/2005: Bugzero in complete Chinese interface.